Robert Massimi.
There is a reason why whites are 9% of the population and own 79% of the land in South Africa. It is not like it was given to them, they earned it. South Africa was once the most prosperous of all the African Nations. No more. The Nation under Mandela and before wanted black voting rights. it was opposed by the South African Government until economic sanctions from around the world made them aquisic. Big mistake, as the country is in a tail spin now. A third world country marked by corruption and greed by the ANC. They really never cared what went on prior in South Africa they just wanted power so that they could line their filthy pockets regardless that it was going to hurt it's fellow countrymen. Now they want to take white peoples land with no payments for the white peoples land. Where's the protest at the liberal UN? Where is the outrage now? Is it because whites are being hurt and not blacks? If this was happening to the blacks their it would be all over the news, Amnesty International would be all over it, but no one is talking about it. Big time racists like Kofi Annan will be silent as will David Dinkins who was Mandela's prat boy. Where are all these human rights people? Because it is not a black issue it does not count to the UN. Because it is not a Muslim issue it is not a UN issue.
The ANC blanketly called all whites murders. If a white party or even a white candidate ever said anything close to what they said it would be met with fury. It seems that there are one set of rules for whites and another for blacks. White people, any people get rich by working hard. People seem to forget that. Taking their land will probably end up making these farms less crop productive leading to starvation in some cases. The land if not farmed properly will be less fertile in years to come causing many to go without in the foreseeable future. Losing ones land will mean that the whites will take their money and go, leaving the country to end up like Liberia, destitute and broke. It will lead to chaos and high crime, greed at the government level and citizens doing without. South Africa once prosperous will go the route of Zimbabwe and Chad. It will be just another African shit hole riddled by crime and violence where only government officials will be rich. It will be dictator after dictators like Idi Amin. People who abuse there power and abuse there people. Natural resources will be sucked out of the country for there benefit and no one else's. With poverty already looming, do you think the rockers will play Sun City? no, they will need to do benefit, however, to feed the people of South Africa. Many of the people of that Nation are uneducated and too dumb to see what is going on right now.
Africa is the most corrupt continent on the planet. It is no wonder why the blacks wanted to vote. They wanted to posses power to take over the Nation, to rid white people, period. They wanted to be like there brethren of other African Nations and steal to their hearts content.To get as rich as people like Kin Jung-un, Marroubach in Egypt. They want to take leaving the people poor, beholden to these leaders. To dictate how things are going to be, to never relinquish power again. It will become at some point, anyone who opposes there oppression will be killed, jailed or tortured. Sound familiar? It should. this is what Nelson Mandela opposed. He did it out of richousness, the ANC is doing it to be thugs and criminals. To enrich themselves without any consideration for it citizens white or black.
Read Below.
ANC shocks Twitter by calling all white people 'murderers'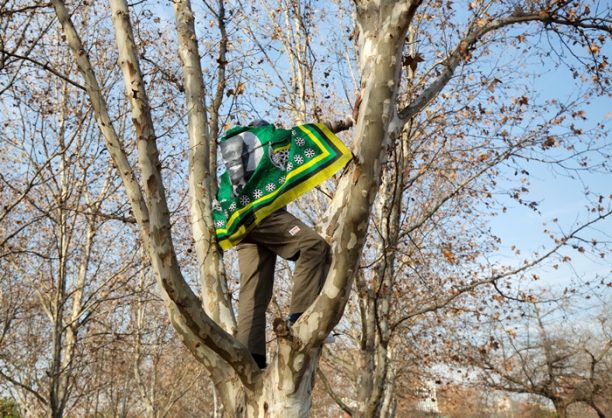 The party has subsequently deleted the tweet and said it was quoting someone else, though lawyers say they can still be held accountable.
A tweet on the ANC's parliamentary Twitter account shocked many on Thursday when it appeared to call all white people murderers.
The tweet, which has subsequently been deleted, read: "The biggest mistake we are making is to consult murderers. White people are 9% of the population, they own 79% of land. They never came and consulted us for the land. If they want us to forgive them now, then let us share the land, the mineral resources."
Thanks again for confirming everybodies suspicion. Please see below, and please explain to me how this does not look like your views. pic.twitter.com/LGRj5MBCBe

— Geoffness (@TheGeoffness) August 2, 2018
It was not in quotation marks, so when it was read out of context it came as a bombshell to many, who assumed that this was the view of the ANC itself.
The party then told its critics that it had merely been quoting the remarks of one of the members of the public who had come to parliament's constitutional review committee's public hearing on the review of section 25 of the constitution that was being held in the town of Beaufort West in the Western Cape.
The tweet is a contribution/remark made by a member of the public. All tweets are a thread from the contributions made by the public, they are not the views of the ANC.

— ANC Parliament (@ANCParliament) August 2, 2018
However, this didn't sit well with critics, who pointed out that the party should have made that clearer, by at the very least putting the statement in quotation marks.
Subsequent to the criticism, that was what the account began to do, in an attempt to make it clearer that it was not necessarily expressing the views of the ANC itself.
Nevertheless, this still didn't well with some. A legal expert, Helene Eloff, also weighed in to make it clear that the ANC had blundered and could be held liable for the view expressed, since a disclaimer can't be applied retrospectively.
Racist bigoted scum you are.

— Richard Spoor (@Richard_Spoor) August 2, 2018
A sly cop-out @JodiSAnne

— gumede783 (@gumede783) August 2, 2018
Even if it was genuinely someone else's tweet which was not the way it tweeted at all! Why on earth would the ANC be so blatantly irresponsible by sharing such racially divisive hatred on a public domain in their @ANCParliament name?

— JodiAnne (@JodiSAnne) August 2, 2018
Tweeting 101: if it's not a retweet, or in quotes, or directly attributed to a third party, it's YOUR tweet.

— Peter Terry (@PeterTerry3) August 2, 2018
Under South African law, the sharer of the Tweet is considered as liable as the creator. So that disclaimer does not help much…

— Helene Eloff (@HeleneEloff) August 3, 2018
ALso, the disclaimer cannot be valid retroactively. If the ANC did not agree with it, they should have stated accordingly from the get go.

— Helene Eloff (@HeleneEloff) August 3, 2018
Unacceptable. You can't backtrack now and pretend you didn't didn't say it. According to SA law if you tweet it you said it. Too late buddy.

— collyblom (@collyblom) August 2, 2018
How can anyone be this bad at social media? pic.twitter.com/wsylACQNlF

— Rob AF. (@RobForbesDJ) August 2, 2018
So would you also uncritically tweet someone calling black people the "k" word without quotation signs or attribution? This was either a really bad slip-up, or you are revealing more of your biases than you intended. Deeply worrying either way.

— John Endres (@senderman) August 2, 2018
You tweeted racial hatred. Own your actions. Tsk!

— A Leonard (@AnneLeonardPta) August 3, 2018
The ANC in the Western Cape on Saturday congratulated the joint constitutional review committee for successfully conducting public hearings into whether the constitution should be amended to allow for expropriation of land without compensation.
The committee had held public meetings across the Western Cape in the past week, and on Saturday finished the public consultation process with a public meeting in Goodwood in Cape Town.
In a statement, the party said: "The people of the Western Cape have spoken. From Oudtshoorn to Beaufort West, Citrusdal to Swellendam, and finally, the Cape Metro, our people have unequivocally and overwhelmingly said section 25 of the constitution must be amended in order to fulfil the broad and fair land ownership across the province.
"The ANC is proud of its members who came out in numbers and made solid contributions in the public hearings. Our members and supporters are saying land reform through the amendment of section 25 will open the province's productive forces and, contrary to popular belief, will actually increase agricultural productivity and be the catalyst for the broad industrialisation of our country as millions get absorbed into mainstream economy.
"Our people are saying land is the basis for all economic activity and exclusion of the majority of citizens from land ownership prevents them from full participation in the economy. There is a clear message that land expropriation will have a positive impact also on social challenges as people are freed from burden of landlessness and lack of assets."
The statement added: "Our people believe that instead of affecting food security, land expropriation will actually expand it. Instead of causing social and economic upheaval, new economic players will emerge, and our economy may experience a leap forward."
The party said that contrary to the fears of some, including right-wing organisations, the ANC had made it clear throughout the process, and in its National and Provincial Land Summits, that "not only are we concerned about food productivity, we seek maximisation of all agricultural land, so instead of removing some productive forces from the system, more will be added".
Parliament's joint constitutional review committee on Saturday concluded the provincial public hearings into section 25 of the Constitution in the Cape Metropolitan Area with one of the biggest gatherings to date.
READ MORE: Cyril 'made Zuma-style announcement' to 'neutralise EFF threat' – Mmusi
The committee, which held a total 34 hearings in all nine provinces of South Africa, was instructed by the National Assembly and the National Council of Provinces to ascertain whether a review of this section and other clauses were necessary, to make it possible for the state to expropriate land in the public interest without compensation. It was also asked to propose the necessary constitutional amendments where necessary.
Hundreds of members of the public attended Saturday's hearings at the Friend of God Church in Goodwood. The church has a capacity of 1,500. Long queues were still seen outside during the hearing and, as people finished submissions, they made space for others to come into the venue.
Co-chairperson of the committee Vincent Smith said that following the hearings, the committee would assess the hundreds of thousands of written submissions it received after which it will invite those submitters, who indicated that they wanted to make oral presentations, to hearings at parliament.
Once the process had been concluded, the multiparty committee would deliberate extensively on this matter before it reported to both houses of Parliament.
The ruling ANC this week announced that it was going ahead with its intention to review the contentious section.
In a late address on Tuesday, ANC leader and SA President Cyril Ramaphosa said his party will, through the "parliamentary process, finalise a proposed amendment to the Constitution that outlines more clearly the conditions under which expropriation of land without compensation can be effected".
<img src="//za.effectivemeasure.net/em_image" alt="" style="position:absolute; left:-5px;" /> https://stags.bluekai.com/site/43895?ret=html&phint=__bk_t%3DANC%20shocks%20Twitter%20by%20calling%20all%20white%20people%20%E2%80%98murderers%E2%80%99%20%E2%80%93%20The%20Citizen&phint=__bk_k%3DThe%20Citizen%2C%20Citizen%2C%20news%2C%20business%20news%2C%20world%20news%2C%20sport%2C%20local%20news%2C%20south%20African%20news%2C%20entertainment%2C%20breaking%20news&phint=__bk_pr%3Dhttps%3A%2F%2Fwww.drudgereport.com%2F&phint=__bk_l%3Dhttps%3A%2F%2Fcitizen.co.za%2Fnews%2Fsouth-africa%2F1991557%2Fanc-shocks-twitter-by-calling-all-white-people-murderers%2F&limit=1&r=99191661 https://nero.live/tags/nero-tags-v2.html
https://platform.twitter.com/widgets/widget_iframe.cb6df5c11eb74c4885e17101a777cb60.html?origin=https%3A%2F%2Fcitizen.co.za&settingsEndpoint=https%3A%2F%2Fsyndication.twitter.com%2Fsettings