Robert Massimi.
In a speech given by George Soros he states that global financial trouble is on the horizon.  Of course he does, he helped create some of the problems that exist today. He helped with the wave of illegals coming from the Middle East and Africa to Europe.   The mass wave of immigrants has all but torn some countries apart.  He calls for Marshall law in Africa, this would take away any of the freedoms that these people have left. Soros wants a nanny state in each country so that the people are overly depended on there respective governments leading to a one world order. The more peoples rights are taken away, the more they have to depend on big brother to make there decisions on it's people. Much like what we are seeing in our second amendment here, people like Soros want you to believe that he knows whats best for everybody. He wants one currency for Europe, a disaster for the stronger countries and good for the weaker ones. One currency is socialism at it's best because the weak are dependent and the strong get weaker because they have to keep pumping in money to those who are weaker.
Soros tries to paint a bad picture because he sees many countries voting conservative, many countrymen protesting against more liberal regimes. The people in Europe are feed up with foreigners deluging the population and not even trying to assimilate to the respected countries moires.
Europeans are also alarmed at the amount of welfare that they have to payout to these people and all the while the places where these immigrants live are often a "no go" zone where police and firefighters will not venture into. Areas that are completely unsafe for a citizen to walk. Many Europeans are afraid to venture out in public fearing a terrorist attack. Soros does mention all of these things, he just talks about how the government must get more involved in controlling peoples lives with things like Marshal Law and currency sterness. He talks about backing out of the Iran nuclear deal as if that will have an effect on any countries currency. His speech had plenty of coverage from his buddies company, Mike Bloomberg. Bloomberg another globalist believes in taking away peoples rights. As Mayor he wanted major gun control, major reductions in sugar, salt and strict smoking laws. Soros blew smoke in his speech, there is nothing to indicate that the world financial system is not as strong, or stronger now then two years ago.
READ BELOW:
Soros Sees New Global Financial Crisis Brewing, EU Under Threat
By
and
A surging dollar and a capital flight from emerging markets may lead to another "major" financial crisis, investor George Soros said, warning the European Union that it's facing an imminent existential threat.
The "termination" of the nuclear deal with Iran and the "destruction" of the transatlantic alliance between the EU and the U.S. are "bound to have a negative effect on the European economy and cause other dislocations," including a devaluing of emerging-market currencies, Soros said in a speech in Paris on Tuesday. "We may be heading for another major financial crisis."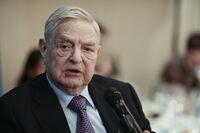 The stark warning from the billionaire money manager comes as Italian bond yields have jumped to multi-year highs and major emerging economies including Turkey and Argentina are struggling to contain the fallout from runaway inflation. Soros, who has been the object of ire by the government of his native Hungary, saved his gloomiest outlook for the EU.
"Everything that could go wrong has gone wrong," he said, citing the refugee crisis and austerity policies that catapulted populists into power, as well as "territorial disintegration" exemplified by Brexit. "It is no longer a figure of speech to say that Europe is in existential danger; it is the harsh reality," he said.
Soros's proposed remedy for some of the ills facing Europe is an EU-funded Marshall Plan for Africa, worth about 30 billion euros ($35 billion) a year, which would ease migratory pressures to the continent. He also proposed a radical transformation of the EU, including the abandonment of the clause forcing its member states to join the single currency.
"The euro has many unresolved problems and they must not be allowed to destroy the European Union," he said.
Before it's here, it's on the Bloomberg Terminal.
LEARN MORE
markets
Why Some Emerging Markets Are Suddenly Melting Down
By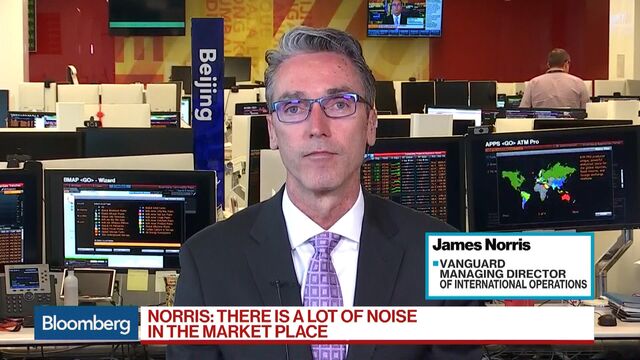 Investors had been enamored with emerging markets for more than two years. These days, they're not so besotted. For several weeks, money has poured out of developing nations and into the U.S., causing the dollar to rise in value and the currencies of emerging markets to hit new lows. Turkey has been at the center of the rout, but many other countries, including Argentina, Hungary and Indonesia, have been hit as investors dump riskier stocks and bonds for the safety of U.S. assets. For some economists, it raises the specter of the late 1990s-era Asian economic crisis. What's going on?
1. Why are emerging markets suffering?
The easy answer is that money is fickle and opportunistic — it goes where it can get the highest return, flowing out of countries as fast as it flows in. This latest upheaval started when the U.S., Japan and Europe kept interest rates close to, or below, zero to help their stagnant economies recover from the 2008 financial crisis. That made returns on stocks and bonds unattractive, and drove investors to developing nations, where the risks were higher but the payoffs more inviting. Emerging markets, as a result, have enjoyed a rally in stocks, bonds and currencies. But the reverse is now happening as investors react to several signals from the U.S. — faster growth, rising interest rates and a stronger dollar. All three indicate potentially higher returns on U.S. investments and thus act as a magnet for money. They also undermine the attraction of riskier emerging markets. The turmoil in Turkey has especially rattled investors.
2. How scary can this get?
Some say this is just a market hiccup as speculative investors betting on a weaker dollar were caught off guard by the U.S. currency's new strength. Others say the developing world is in worse shape than many investors think. Harvard professor Carmen Reinhart, for example, has said mounting debt loads, trade battles, rising interest rates and stalled growth have made emerging markets more vulnerable than on the eve of the 2008 financial crisis. Paul Krugman, the Nobel Prize-winning economist, has said the current episode somewhat resembles the Asian financial crisis of the late 1990s, when the MSCI Emerging Markets Index for developing-nation stocks slid as much as 59 percent.
3. What caused the Asia crisis?
It started when a real-estate bubble burst in Thailand, which undermined confidence in the economy, causing foreign investors to sell the currency and withdraw from the stock market. The crisis spread to the banks, and then across much of East Asia. Many of the afflicted economies had strong growth records that masked weaknesses like nonperforming bank loans, heavy foreign borrowing and rising trade deficits. Because their currencies were pegged to the dollar, South Korea and other nations were forced to spend billions trying to fend off speculators who were selling their currencies. They soon ran out of dollars and had to give up the peg and devalue their currencies. The contagion spread when foreign investors pulled back from other countries in the region seen as having similar problems. Several ended up seeking bailouts from the International Monetary Fund.
4. So is this another Asian-like crisis?
No, at least not yet. One reason: Investors are selectively punishing markets where policy makers haven't done enough to stem deteriorating trade balances and ballooning inflation. These include Turkey and Argentina, which have the worst combination of weak governance and high dollar debt among 18 major emerging-market economies. Brazil and Indonesia aren't far behind.
5. Who else looks vulnerable?
Economies dependent on dollars and other foreign currencies to finance their trade deficits — the Philippines, India and Indonesia stand out — have the worst-performing currencies in Asia this year. Those with the highest rates of foreign ownership of government bonds could be the most vulnerable to capital outflows, including South Africa, Indonesia and Russia.
6. Why is Turkey in so much trouble?
It's been one of the hardest-hit emerging-market currencies, shedding more than 17 percent of its value against the dollar this year. Turkey has a large budget shortfall and one of the biggest trade deficits in the G-20 group of nations. And though Turkey's inflation rate is more than 10 percent, its central bank was prevented from raising interest rates by President Recep Tayyip Erdogan, who is seeking re-election in June and says he prefers low interest rates, based on his own ideas about monetary policy. He has also said he plans to take more control over monetary policy if he wins. Last week, the central bank took emergency steps to arrest the slide with an interest-rate hike to prop up the lira, and followed this week with a simplification of its interest-rate regime. All of this has made Turkey seem more risky to investors.
7. Why did so many countries borrow in dollars?
Encouraged by near-zero interest rates after the global financial crisis, developing nations loaded up on what was then cheap debt. Selling bonds denominated in dollars rather than the local currency also attracted investors who favored the more stable greenback. Turkey's corporate sector, for example, has foreign currency debt in dollars, equivalent to 40 percent of gross domestic output. Global investors, though, sometimes ignored danger signs, such as rising trade deficits and government spending sprees. They also brushed aside, until now, the fact that a stronger dollar would make it harder for emerging markets to repay their debt. That's because once they borrowed in dollars, they needed to buy dollars to repay the debt. As the dollar rises in value against the local currency, it costs more to obtain those dollars.
The Reference Shelf
Before it's here, it's on the Bloomberg Terminal.
LEARN MORE
https://www.googletagmanager.com/ns.html?id=GTM-MNTH5N
<p style="margin:0;padding:0;border:0;"> <img src="https://a2.adform.net/Serving/TrackPoint/?pm=1118168&amp;ADFPageName=window.location.pathname&amp;ADFdivider=|" width="1″ height="1″ alt=""> </p> <img src="//bat.bing.com/action/0?ti=5820275&amp;Ver=2″ height="0″ width="0″ style="display:none; visibility: hidden;"><img height="1″ width="1″ style="display:none" src="https://www.facebook.com/tr?id=114475372488961&amp;ev=PageView&amp;noscript=1″&gt; <img height="1″ width="1″ style="display:none;" alt="" src="https://dc.ads.linkedin.com/collect/?pid=155577&amp;fmt=gif"&gt;
<img height="1″ width="1″ style="display:none" src="https://www.facebook.com/tr?id=407225039721182&amp;ev=PageView&amp;noscript=1″&gt;
<img height="1″ width="1″ style="display:none" src="https://q.quora.com/_/ad/7f95fe1a74cb492e8656a1e2ab719ad4/pixel?tag=ViewContent&amp;noscript=1″><img height="1″ width="1″ style="display:none" src="https://www.facebook.com/tr?id=239834876761399&amp;ev=PageView&amp;noscript=1″&gt; <p style="margin:0;padding:0;border:0;"> <img src="https://a2.adform.net/Serving/TrackPoint/?pm=1118168&#8243; width="1″ height="1″ alt=""> </p> <img height="1″ width="1″ style="display:none" src="https://www.facebook.com/tr?id=1888404258117965&amp;ev=PageView&amp;noscript=1″&gt;
https://c1.adform.net/imatch/pixels?uid=-8646041581847153006&agencyId=5088&advertiserId=232711&src=tp&rnd=5080